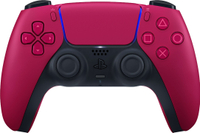 PlayStation DualSense Wireless Controller | The good colors | Bluetooth| $74.99 $49 at Amazon (save $26)
The PlayStation DualSense controller has become a favorite among PC gamers thanks to some recent firmware updates. They are also rarely on sale; when they are, it's never for this cheap. The best part is that the discount applies to all seven colors, like my favorite, Galactic Purple.

Price Check: Best Buy $49.99 | GameStop $49.99
Amazon is currently offering an incredible deal on PlayStation DualSense wireless controllers for just $49. These controllers haven't been this cheap since Black Friday, and this deal includes all of the color schemes currently available.
These controllers rarely go on sale, and when they do, the usual discount is around $5 to $10 off from its standard price of $74.99, which is rather expensive. If you've been patiently waiting for an opportunity to buy a colorful replacement controller, your patience has finally been rewarded.
The DualSense features a built-in speaker, microphone, and a neat touchpad for navigating menus. However, the coolest thing about this Bluetooth controller is still the haptic feedback on the adaptive triggers, which works especially well on first-party PlayStation games like Rachet and Clank Rift Apart or The Last of Us Part 1 on PC.
My only real problem with the DualSense controllers is their unpredictable battery life. While Sony claims a single charge can yield 6 to 12 hours of gameplay, actual results may vary (especially if you're using controllers from the early console launch, as they've been known to exhibit battery life issues).
If you were hoping that the DualSense Edge would also be on sale, sorry to be the bearer of bad news, but the highly customizable controller with replacement analog stick is still $200. You can trust that I've also been closely watching that one for a price drop.